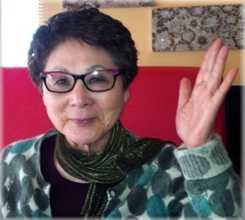 BAILEY, Sayoko "Sally" (nee NIKAIDO) -
August 31, 1935 - May 14, 2023
Sayoko "Sally," age 87, formerly of Ruskin, BC, passed away on Mother's Day, May 14, 2023, at Toronto's Sunnybrook Hospital.
After spending four years of the Second World War in the "Tashme" internment camp for Japanese-Canadians with her parents and siblings, followed by a spell picking sugar beets in Alberta, Sally would make her way to Ontario, as did her sisters, Judy, Jean, Pat and Lucy.
It was in Toronto that she was hired by Bell Canada, where she met Shirley Jarvis, Marilyn Jones and Carole Pryor, with whom she remained friends until the end.
In 1956, Sally met an English immigrant, a carpenter and jazz musician by the name of Arthur Bailey, whom she married in 1959.
They were together for nearly 57 years, being parted only by Arthur's death in April of 2016.
Their union produced two sons, David and Brian.
In her latter years, Sally took to the ice, skipping her team at the Leaside Curling Club. She made many friends and continued to compete until illness forced her to retire from the sport she loved.
Sally was predeceased by her parents, Mitsu and Fuchi (née Abe); sisters, Judy (Nakatsu), Cherry (Inouye), Fay (Takahashi), Pat (Fujiwara), Lucy (Ichikawa), Rose (Yamashiro) and Yuki (who died in infancy); and brothers, Frank and Tak. She is survived by her sister, Jean (Goto); brothers, Roy and Harry; sons, David and Brian; and by her many nieces, nephews, great-nieces and great-nephews.
On behalf of Sally, the family thanks the extended Nikaido family in BC and Ontario, the extended Bailey family in England; the staff, nurses and doctors at Sunnybrook Hospital; and her physician, Dr. Amy Liao.
The family would also like to pay special thanks to Sally's nieces, Laura and Janet; her brother, Roy; and her very special friends, Shirley Jarvis, Pauline Sykes, Maureen Harrington, Carola Feili and Tracey Miller.
Funeral services will be held on Saturday, May 27, 2023, at York Cemetery, 160 Beecroft Rd., North York, ON, at 12:00 p.m.