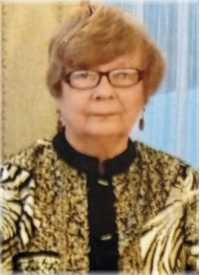 COSBURN, Olga - After a full and extraordinary life, we announce the passing of Olga Cosburn (née Sulovsky) on May 23, 2023.
Born in a time and place when little girls were not routinely expected nor encouraged to grow into strong, independent women, Olga, a young woman from a small farm in a small town who lost her mother way too early, went on to meet the challenges of life with strength, honesty and unbreakable spirit.
She was a fighter who battled and beat breast cancer not once but twice, and who, when she found there were no support groups available, started one.
A daughter; a sister to her beloved sister, Lynn (Ian), who predeceased her; a committed and loving wife to William, who she cared for until the time of his death; loving mother to Catherine; and grandmother to Dante (Warren) and Dylan (Lance).
Also a proud aunt to Jennifer (Matt) and Sean (Tami); and great-aunt to Anthony and Tyler. Best friend and travelling companion of Carol; and a committed friend to the entire Lawrence family and many, many, others. She was always just a phone call away to share in the triumphs and struggles of life, and was a lifelong Lutheran, dedicated to church and the many relationships that started there.
She truly believed that life was not defined by your date of birth and date of death, but by the dash in between, and whatever struggles and challenges she encountered, she remained committed to living every day of the dash and dying with no regrets and no words left unsaid.
A life of purpose and a loss that will be keenly felt by those who loved her.
A Celebration of Life will be held at Advent Lutheran Church on Friday, June 16, 2023, at 12:00 p.m.