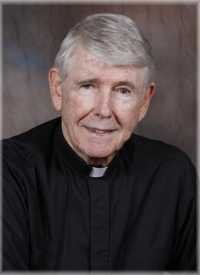 WEBER, Monsignor John Joseph -
May 13, 1937 - September 15, 2023
It is with profound sadness that the family of Monsignor John Joseph Weber announces his death.
He passed away at Sunnybrook Hospital on Friday, September 15, 2023.
In his own words: "The best part of my life is, and has been, the Priesthood.
In spite of my failures and fumblings God has regularly used me as a channel of His presence in the lives of others.
To me, that is profoundly reassuring.
It links the reality of the past years to the vision which drew me to this life." Monsignor was predeceased by his parents, Angela and Clayton Weber; his sister and brother-in-law, Mary Anne and Carl Kazmierski; his brother, James Weber; His nephew, Gregory Kazmierski; and his grand-niece, Megan Teepell. He is survived by his sister, Angela Costigan; his sister-in-law, Patricia Weber; 10 nieces and nephews and 22 grand-nieces and nephews.
Monsignor served as associate pastor at Holy Name Parish in Toronto, St. Mary Immaculate Parish in Richmond Hill, and St.
Timothy Parish in Toronto before being named as pastor of St. Barnabus Parish in Toronto from 1976 to 1990 and Good Shepherd Parish in Thornhill from 1990 to 2012.
He served on the Marriage Tribunal of the Archdiocese of Toronto.
He was conferred as a monsignor on February 1, 2014.
He celebrated the 60th anniversary of his ordination to the priesthood on June 1st of this year.
Monsignor demanded the best from all of us and from himself he demanded meticulous and devout attention to the sacred sacrifices he offered at the altar of God.
He faithfully and joyfully administered the sacraments to his people.
He was a frequent visitor to their homes, which he blessed. He was a renowned speaker.
His sermons stirred the hearts and minds of everyone from the brilliant to the meek. Being fond of doing well everything he did, he was skilled master on a ski hill and a champion on the golf course.
He is noted for making a barn dance an attraction that could draw countless numbers to his parish pews. He was the center of every family holiday. Family events would always commence with Holy Mass and be followed by a celebration of endless laughter and joy.
Monsignor was a priest according to the order of Melchizedek. His labour in the service of God was a labour of love and that was reflected in the love held for him by his parishioners.
He will be mourned and missed by all who knew him.
A before skilled master, the senses should read He was a skilled master o the skill hill.
Visitition will take place at Kane-Jerrett Funeral Home (8088 Yonge Street, Thornhill) on Tuesday, September 19, 2023 and Wednesday, September 20, 2023 from 2:00 p.m. – 4:00 p.m. and 6:00 p.m. – 8:00 p.m. A Mass of Christian Burial will be celebrated at Good Shepherd Parish (21 Simonston Blvd, Thornhill) on Thursday, September 21, 2023 at 10:00 a.m. A private burial will be held on Friday, September 22, 2023.
Fond memories and expressions of sympathy may be shared at www.kanejerrett-thornhill.ca for the Weber family.
{fastsocialshare