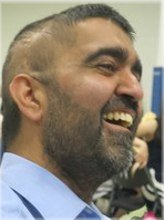 PHILIP, Alexander Cherian 'Alex' - (February 19, 1979 - November 4, 2018) -
Was born on February 19th, 1979 to Samuel and Mary Philip in Toronto, Canada. He was the younger brother of Charles Philip.
At the age of four, he began his education at Peoples Christian Academy, where he remained as a student throughout his elementary and high school years. Upon graduation, he attended Queen's University, where he got a Bachelor of Arts Honours degree in Philosophy and a Bachelor of Education.
Immediately upon completion of his teaching degree, he returned to Peoples Christian Academy, where he has been passionately teaching Biblical studies, Comparative World Religions, Philosophy and rhetoric for 15 years.
During this time, he also completed a Masters of Arts in Leadership and Ministry, as well as a Doctorate of Ministries.
He blessed his students by faithfully preaching the gospel and helping them articulate the uniqueness of the Christian faith. He also blessed them by living before them a life of integrity and conviction. He did not only teach in the classroom, but also led the senior school as its Chaplain and directed the Missions Program, taking students all over the world to share the love and truth of Jesus.
Alex's colleagues and peers will remember him as the most faithful of friends, who gave generously at every opportunity. Alex loved to fill his home with people, and often had family, colleagues and friends over for meals, social events and times of prayer and ministry. He truly exemplified the Bible's instruction to 'Honor one another above yourselves' (Romans 12:10).
His caregivers will remember his gracious and patient spirit as he endured without complaint the hardships of a body increasingly limited by the cancer that finally took him home to the Lord on November 4, 2018.
His brother, father and extended family will cherish their memories of his kind nature and his practical care towards each one of them. He loved to spend time with his family and so enjoyed laughing with his cousins, playing with his nephews and nieces, visiting his aunties and uncles, and living beside his parents in order to take care of them.
His wife, Elaine, and children, Samuel and Esther, will remember his undying devotion to them, his tender care, his contagious sense of humour, and his constant encouragement to follow the Lord.
Visitation will be held at Chapel Ridge Funeral Home, Markham on Friday, November 9th from 2:00 - 4:00pm and 5:30 - 8:30pm. Student Visitation and Memorial Service. This will be a time for students and alumni at PCA to come and pay their respects and have an opportunity to share some memories together. Friends and Family Visitation. Formal time for tributes and worship between 6 pm & 8 pm.
The service will take place at The Peoples Church, 374 Sheppard Avenue East, Toronto on Saturday, November 10th at 10:00am. Fellowship from 12 pm - 1:30 pm. Interment to follow will be private.

In lieu of flowers, we would ask you to consider giving towards one of these two charities in honour of Alex's passion for missions and his conviction to protect the sanctity of human life.
{fastsocialshare