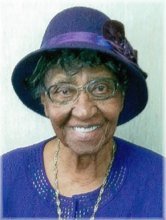 RICHARDS, Vashti - Otherwise known as Queen Vashti and affectionately called "Miss Bell" was born on November 1, 1917 in Clarendon Jamaica.
Sadly, Queen Vashti fell asleep in death on September 6, 2019, she was nearing 102 years of age.
She is survived by her 10 children: Esmie, Docky, Linda, Lenford, Caroline, Merl, Daphne, Yvonne, Daisy and Josiah.
She has 52 grandchildren, 61 great grandchildren, 11 great great grandchildren, one sister and a host of other relatives and friends.
Friends may visit at the Jerrett Funeral Home, 1141 St. Clair Ave. W., Toronto on Friday, September 20th from 7 - 9pm.
Interment to take place September 21st at 1pm at Beechwood cemetery, 7241 Jane St., Concord. Friends are asked to meet at the cemetery between 12:45pm - 1pm. The Memorial Service will follow at Kingdom Hall, 5 Mapleleaf Drive, Toronto at 3pm.
{fastsocialshare