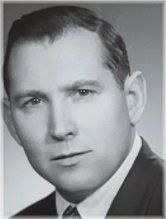 KOWALIK, Gregor - August 25, 1926 – November 16, 2019 (Holodomor Survivor)
We announce with profound sorrow the passing of Gregor, 93, who valiantly succumbed to acute kidney failure surrounded by his family on November 16, 2019.
He was loved and cherished beyond measure by his family the Arsenaults: his daughter Helen, son-in-law Jacques, grandson Jonathan, and granddaughter Alexa.
Gregor was predeceased by his cherished son George in 2012 and his beloved wife of 67 years, Maria in 2017.
Gregor was born in the village of Osokorivka, Kherson Oblast, Ukraine where he endured incredible hardships early on in his life, including the genocidal famine (Holodomor) throughout the Soviet collectivization years of 1929-1933, working in an internment camp as a slave labourer for the Nazis at the Daimler-Benz factory during World War II, and finally going through the challenging immigration process to find a new home outside of his war torn youth.
He immigrated to Canada in March 1950 with nothing but hope, ambition and gratitude for the opportunity to build a better life and a better world. His traumatic early years left an indelible mark on his memory but it did not define him. Instead, he was motivated to be successful, to become a productive member in both the Ukrainian and English communities, spread kindness, live life to the fullest, and appreciate life's many blessings.
With his wife Maria, they raised a family with their two children George and Helen, along with their biggest joy and devotion, their grandchildren Jonathan and Alexa.
Gregor loved and embraced Canada but was also proud of his Ukrainian roots and culture. An accomplished jack-of all trades, Gregor worked in varied occupations until he found permanent employment at Robin Hood Company. Active in the company's administration team, he was elected as the union President for six consecutive years. He was greatly respected by both the Company and its union members for his highly developed negotiating and diplomatic skills and leadership.
A multi-linguist, he was able to effectively communicate with all the diverse workers and had many success stories in preventing firings or reinstating terminated employees.
Gregor continued to work there until his retirement in 1991. He was also the Treasurer at St. Sophie's Ukrainian Orthodox Cathedral in Montreal for 12 years where he expertly managed the Cathedral's finances.
His home away from home, and his little slice of heaven was the cottage he designed and built in the Eastern Townships in Quebec. It was here that he and Maria felt most at peace amongst their many gardens and where they gave their grandchildren happy and memorable childhoods. Gardening was a passion of Gregor's until he was 92. He could make anything grow and thrive because he firmly believed in "talking" to his plants and they "talked" right back to him and rewarded him with bountiful flowers. He was generous in sharing everything he canned and preserved from his garden. Building came naturally to Gregor.
In addition to building houses, Gregor built a family, built lasting friendships, built diverse relationships, spread goodwill and helped build communities wherever he lived – from various countries in Europe and then in Quebec and Ontario.
Gregor and Maria lived in Montreal for 61 years until 2011 when they both required care and moved to Aurora, Ontario to live with their daughter and son-in-law prior to moving to Ivan Franko Retirement Home in Mississauga in 2014. He mourned deeply but stoically the passing of both his wife and son.
Gregor was a true Renaissance Man: an elegant, charming and dapper man, a locksmith, a bricklayer, a plumber, a butcher, a self-taught musician and tailor, an accomplished chef, a baker, a voracious reader, a historian, fluent in nine languages, a painter, a crossword puzzle enthusiast, an avid bingo player, a political enthusiast, a humorist and story-teller who loved to laugh, loved all things Ukrainian and dearly enjoyed a good debate and a good joke.
What many did not know was that Gregor was a very private philanthropist, with recipients never knowing that he was their silent benefactor. Gregor was a magnet for friends, family, and especially pets, given his constant kindness and warm touch. He had an incredibly firm handshake, always looked you in the eye, and his word was his bond.
Throughout life's many adversities and tragedies, Gregor's deep and abiding faith in God and God's plan for him sustained him and he forever remained an optimist right to his last breath. At Ivan Franko Retirement Home, he was the President of the Resident Council and was recently acknowledged for his many years of selfless volunteerism in enhancing the lives of all the residents there.
Visitation will be held on Thursday, November 21, 2019 from 1:00 to 4:00 p.m. with Panachyda in-between from 2:30 to 3:00 p.m. at Cardinal Funeral Home, Toronto. Funeral services will be held on Friday, November 22, 2019 at 10:00 a.m. at St. Volodymyr Ukrainian Orthodox Cathedral, 400 Bathurst Street, Toronto, next to the funeral home. Complimentary parking is available at the funeral home as opposed to the Cathedral's paid parking lot. Interment to follow.
In lieu of flowers, memorial donations can be made to Help Us Help the Children, or the Kidney Foundation of Canada, or to the charity of your choice in honour of this truly remarkable man.

{fastsocialshare