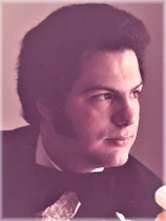 COOK, Edward Paul - Passed away peacefully on July 9, 2020 after a complicated battle with Esophageal Cancer and Parkinson's Disease with Lewy Body Dementia.
He was born at home on Glendale Avenue in Parkdale on August 29, 1947, the fourth child of the late John Ambrose Cook and Ilene Cook (nee Flintoff).
Ed will be forever remembered by his wife and best friend, Donna, their children Michelle (Mike) and Adam, and his two cherished great-grandchildren, Mia and Jamie.
He will join his late brother, Michael (Lyn), in heaven to resume their pastime of listening to vinyl music.
He is survived by his siblings and lifelong teammates: Ambrose (Marianna), Ilene-Ann, Catherine, Chris (Kathy) and his many nieces and nephews.
Native to Parkdale, Toronto, "Teddy" spent his childhood with his brothers and sisters racing down Snake Hill on Garden Avenue, riding his bike around High Park, playing shinny on Grenadier Duck Pond and swimming in Sunnyside Tank. Ed began his education "walking uphill both ways" at St. Vincent's and moved on to Michael Power and later Parkdale Collegiate. His post-secondary education was in geography at Waterloo-Lutheran University. His career began at IBM and later moved into marketing and consulting.
A special and defining place in Ed's life was the Canadian National Exhibition where he played with his siblings as a child and, later, working as a game attendant, met his high-school sweetheart and love of his life, Donna. Donna was interested in the giant pink stuffed poodle at the game which Ed later brought to her home, beginning his relationship full of thoughtful, romantic surprises.
The battle with Cancer and Parkinson's may have seemed insurmountable to Ed, but he handled every appointment and setback with optimism and resolve. Weakened by his illnesses, he still sang weekly in the Voices of Hope Parkinson's choir. He was jumping out of his seat at a Leafs game in February and kicking a soccer ball around with his grandchildren only a few weeks before he passed. Ed's quick wit, competitive spirit, his deep love for his family and his passion for sport and travel will carry on in our daily lives and beautiful memories of him.
A private graveside service will be held with a Celebration of Life to follow after COVID-19 restrictions.
Donations in his name may be made to Parkinson Canada.

{fastsocialshare