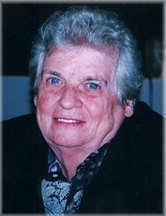 PANTAZIS, Chrysanthe - It is with heavy hearts that we announce the passing of Chrysanthe Pantazis on October 12, 2020 at 97 years young.
She saw incredible changes in her time; from her humble beginnings in Northern Greece in the 1920's, to surviving through the depression and beginning a family at a young age, to surviving WWII and the Greek Civil War, to succeeding in a strange new land when you do not know the language or customs.
To go from oil lamps and donkeys to smartphones and self-driving electric cars, she saw almost unfathomable change in her time, but her one constant was family.

In the 1960's Chrysanthe moved her family from Greece to the frozen foreign tundra of Toronto, where her and her late husband Stavros nurtured their three children and instilled timeless values that continue to be passed down to their 14 great grandchildren (and counting!).

Survived by her children, Fotoula (Bill), Demetre (Anastasia), Gus (Petra), her grandchildren John (Andrea), Steve, Chrysanthe (Anthony), Stephanie (Chris), Steve (Isabelle), Siggy, Giselle (Kyle) and her 14 great-grandchildren.

Special thanks must be given to Chrysanthe's daughter Fotoula Pitsadiotis and her family, who cared for Chrysanthe for several years following a debilitating stroke. As Chrysanthe always taught us, family always comes first.
Visitation will take place at Saints Constantine & Helen Greek Orthodox Church, 1 Brookhaven Drive, Toronto on October 15, 2020 from 5:00pm - 9:00pm. The funeral mass will be held at the church on October 16, 2020 at 9:30am.

In lieu of flowers, the family requests donations be made in her memory to Sts. Constantine and Helen Greek Orthodox Church (Toronto).

{fastsocialshare