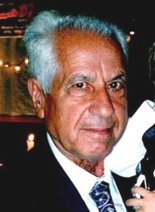 ABBRUSCATO, Giorgio Santo - (November 1, 1929 - December 12, 2020) -
Giorgio Santo Abbruscato was born in the beautiful medieval Sicilian town of Caccamo on November 1st, 1929.
In 1951, the handsome young man met the love of his life, Giovanna Panzeca, whom he married on September 10, 1953.
On August 11, 1954 his first son Giuseppe was born. In 1962 Giorgio moved his young family to Pavia, in northern Italy, to work in the sewing machine factory of Necchi. After a 3 year experience Giorgio decided that it was time to embark on a new adventure and he took the family across the ocean to Canada where on March 20, 1967 in second son Paolo was born.
In Canada Giorgio worked at the same factory for 30 years. At his work place, Ideal Woodworking Ltd. he was loved and well respected until his retirement. Giorgio the proud Sicilian man who in his youth built bricks, clay shingles and pots retired building wooden tables and chairs.
One constant in his life was the love for his family. He cherished his family. He found joy and happiness in being surrounded by his wife, his sons with their respective wifes, his grandchildren, his great grandchildren and the extended Abbruscato family.
Giorgio is reunited in heaven with his wife Giovanna, and will always be remembered by his sons Giuseppe and Paolo with their wives Anna and Roza. The grandchildren: Ariana (Jonathan), Luca (Lillian), Giorgio, Giuliano and the great grandchildren: Frederic, Remy, Joseph, Mattea, Leonardo and Julia. He will also be remembered by his surviving brothers Angelo, Luigi, Alfredo and sister Giorgina with their respective families and his brothers in law and sisters in law and his numerous nieces and nephews.
Arrangements entrusted with Delmoro funeral home, Toronto.
Memorial Donations may be made to the Alzheimer Society.
{fastsocialshare