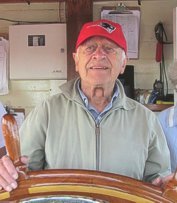 MORRIS, Alexander Nelson Charles 'Alec' - Alexander Nelson Charles Morris (Alec), 94, of Aurora, Ontario, passed away on Saturday, January 9, 2021, surrounded by his family.
He was born to parents Nelson Charles Morris and Mildred Morris, on November 25, 1926, in Eastbourne, a town on England's southeast coast. After the loss of his mother when he was six, Alec had to grow up quickly and help take care of his younger sibling. His childhood was set in the shadow of the Second World War, which influenced his life.
Alec completed school in London and towards the end of the war was trained as an electrical technologist. He married Patricia (Pat), the love of his life in 1950, shortly after the two of them immigrated from England to Canada. Their married life spanned almost 70 years, a remarkable testament to the strength of their love for each other.
In 2019, Pat passed away and took half of Alec's soul with her. We take comfort in knowing they are now reunited and watching over their loved ones.
Alec is survived by loving daughters Janet Eveleigh (Doug), Barbara Lane (Rich) sons Stewart Morris (Morag) and Geoff Morris, as well as grandchildren Heather, Ryan, Kristen, Jamie, Stephanie, Wesley and Connor and great-grandchildren Emmerson, Brandon, Malcolm, Meredith, Victoria, Savannah, Evelyn, Henley and Everett.
Alec was known for his love of family above all else and was also a loyal friend.
Following his retirement from Teleglobe Canada, where he worked for 30 years, he and Pat moved to Kingston where his focus outside his family included travel, reading, theatre and the outdoors, as well as various environmental causes and other charities. Alec was also very active in the retiree community and enjoyed providing medical drive services to local seniors and received an award for his many years of dedicated service.
The Memorial Service will be held on Friday, January 15th at 11 a.m. at the Thompson Funeral Home, Aurora. Burial to follow at Aurora Cemetery. A web streaming service will be available on the funeral home website, in lieu of in person attendance due to the pandemic gathering restrictions.
If desired, donations would be appreciated to UNICEF, Greenpeace (Alec's favourites) or a charity of your choice.
{fastsocialshare