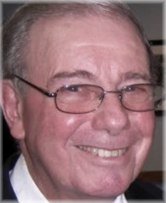 O'BRIEN, Robert William Albert - Passed away peacefully on Saturday, April 10, 2021 at Scarborough General Birchmount Campus after a long struggle with Parkinson/Alzheimer disease.
He was 83 years old.
Robert leaves behind his loving wife of 60 years, Marion; his adoring children Jeffrey O'Brien (Tracey) and Janine Prentice (Scott); and three wonderful granddaughters, Mikaela, Hana and Hailee.
Robert is predeceased by his brothers Steve (???) and Tom (Cheryl), and is also survived by his sisters Shelly (Ron) and Pat (Blaine). He will be missed by family and friends.
He retired in the mid-nineties and turned his talents towards home improvements and building his dream cottage in Kirkfield, Ontario. While at the cottage, he enjoyed his love for fishing, hunting and snowmobiling. His passion for creating and building carried over to any organization with which he became involved.
His gentle smile, calm words of wisdom, leadership, and friendship will live on in our hearts.
The funeral service will be held on Saturday, April 24th at 2:00 p.m.
If desired donations may be made to the Shriner Hospital for Children, 124 Queens Plate Drive, Toronto, Ontario, M9W 0B4. Fallingbrook Presbyterian Church, 35 Wood Glen Road, Toronto, Ontario. M1N 2V8. etransfer This email address is being protected from spambots. You need JavaScript enabled to view it., security church. Attention: Memorial Fund .

{fastsocialshare