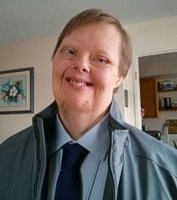 VENEMA, William 'Bill' Timothy - (September 9, 1969 – May 12, 2021) -
William (Bill) Timothy Venema was born on September 9, 1969, in Brampton, Ontario. He was barely 5 pounds and we were given the news that he had special needs. These special needs were part of what made him so special.
Bill was surrounded by a very loving family, many friends, and a supportive church family, and so he flourished.
Bill's interests included bowling, playing games, music, drawing pictures and painting and socializing with everyone. In the early 1990's Bill was introduced to a professional painter who taught him how to paint landscapes. Bill took to this technique quickly and painted over 40 paintings, many of which he sold after having his very own art show.
Another one of Bill's passions was baseball. Bill enjoyed going to weekly baseball games from the church baseball league and endeared himself to the whole team. Not only did the Immanuel Flames come to love him but members of the opposing teams also looked forward to seeing him at the games. He came prepared with his bag full of gum, candies and 'droopies' for the team and it wasn't long before he became the Assistant coach and acquired several medals for winning seasons.
Bill was a longtime member of the Holland Christian Homes community and many, many people will remember chatting with him as he walked through the halls. Bill spent the last eight and a half months living in Grace Manor. It was difficult for him to be confined to the Manor rather than be able to go out to visit friends and family but he made the best of it. He made wonderful friends of staff who were absolutely amazing. He had some complex medical issues but despite that, he was always happy and loving.
The most important thing about Bill is that he was a sincere Christian. He knew God loved him and that Jesus died on the cross to save him. His faith was simple and clear and very strong. He loved to sing along with some of his favourites like Amazing Grace and How Great Thou Art. Listening to him passionately sing with all of his heart could bring tears to your eyes.
Bill has touch countless hearts and spread love and warm thoughts to so many people. He had a delightful sense of humour. God has blessed us all with his life and we will miss him terribly but are comforted to know he is with His heavenly Father. We look forward to the day we will see him again and join him there.
Respecting the current situation and pandemic restrictions, the Funeral Service and Interment will be private. Arrangements and livestream of the funeral service are entrusted with Ward funeral home, Brampton chapel.
{fastsocialshare