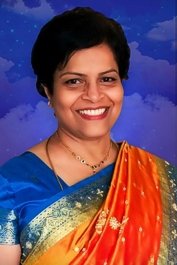 SINGHERAYOR, Varnakumari - (7 March, 1955 – 30 June, 2021)
Varnakumari Singherayor, was born in Naranthanai, Kayts, Sri Lanka, to loving parents, James Selvam and Rosalin James on March 7, 1955.
Married to Anthony Joseph Singherayor (Yogaratnam). Daughter-in-law of the late A.K. Joseph and Mary Anthonipillai. Devoted mother of Ajanth, Steeve and Annuzha. Sister of Menakumari, Jenadevi and Anton James. Sister-in-law of Joseph Christan, Saro Yoganatham, Pushpam Benedit, Punitham Wijeyapalan, Anton Newton, Jega Nation, the late Anton Roy and Joseph George. Caring mother-in-law of Dorina Rogers and Richard Despatie. Loving grandmother of Adrian Rogers.
She studied at Chundikuli Girls' College, in Jaffna, Sri Lanka. Graduated then married in 1982. Varna, along with her husband and son left Sri Lanka in 1984 due to the civil war. They lived in Germany for five years before moving to Canada in February 1989. She worked at Purolator in Etobicoke, Ontario for 21 years. With her husband and children, she built a life in Canada.
She passed away peacefully on June 30, 2021 at age of 66.
As we mourn her passing we know she is in a better place with God in peace. Though gone from amongst us she shall continue to live in our memories. God Bless!

Due to Covid restrictions, the visitations are by invitation only. Arrangements are entrusted with Andrews funeral home, Brampton.

The funeral mass at St. Marguerite d'Youville is restricted to no more than 70 guests. For this reason, the funeral mass will be limited to invitees only.

The family would like to thank everyone for their condolences and blessings during this difficult time.
{fastsocialshare