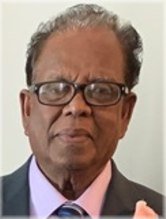 JOSEPH, Thio Santhio - Passed away on Friday, July 23, 2021.
He was born in Jaffna, Sri-Lanka on March 13, 1934, to Elizabeth and Thio Santhio. He was the youngest of three children. He lost his mother at the age of seven and was brought up by his father, his older sister, Salettammah and his brother-in-law Dominic Mathews.
He started his primary school at St. James school and completed his JCSE at St. Patrick's College. He pursued his higher education at St. Joseph's College, Tiruchirappalli, India and graduated with B.Sc. in Botany and Zoology in 1959.
He completed his post graduate degree in education from University of Peradeniya, Kandy, Sri-Lanka in 1966.
He married Mary Bridget, Daughter of Louis, Victor and Theresamma in 1961. Together they had four children, the late Dominic Savio, (1963), Jude (Bebbington) (1968), Clinton (1971) and Linda (1973).
He always considered teaching as his calling and was called to help with the growth of young people in their spirit, mind, and body. Throughout his career he has taught in Catholic schools.
Since they moved to Canada, Joseph and his wife Bridget lived with their daughter Linda. As he always wished, he passed away peacefully at home, with his loved ones in close proximity, his wife Bridget, daughter Linda, his son-in-law Mark Sarang, and grandsons Brayden and Darian.
He is survived by his wife Bridget and his children and their families. Jude Anton Bebbington – (daughter-in-law Nalini, grandson Rohan); Joe Clinton (daughter-in-law Shilani and grandsons Gavin, Declan, Skylan and Caspian); Linda Lorraine (son-in-law Mark and grandsons Brayden and Darian).
We are sure his late son Dominic Savio and his late granddaughter Roshni are happy to welcome on the other side.
Visitation will be held at Chapel Ridge Funeral Home, Markham on Wednesday, July 28th, 2021 and Thursday, July 29th, 2021. The funeral service will take place at St Bernadette Catholic Church, 21 Bayly St E, Ajax on Thursday, July 29th, 2021 10:30am.


{fastsocialshare