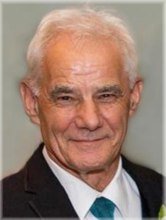 CRUPI, Joseph 'Joe' - Passed away on Sunday, July 25, 2021.
Our father Joe Crupi was a simple man, who lived a very fulfilled 78 years of life.
He immigrated to Canada from Calabria, Italy at the age of 14 with his parents and his siblings, where they resided in Toronto, Ont.
Joe is survived by his wife and best friend of fifty years Teresa and their three son's Vince, Lorenzo, and Robert as well as his Daughter in law Rebecca.
Proudest Nonno to his five grandson's Aj, Joshua, Jakob, Domenico and Sebastiano.
Joe enjoyed his retirement after a dedicated 25 plus years as TTC mechanic.
He was a hands on man who took pride in fixing his cars in his spare time , working out regularly in his basement, and watching formula 1 races with his wife.
Joe lived each week for his Sunday family visits, surrounded by his family.
Joe will be deeply missed by his siblings, brother in law's, sister in laws, his cousins and nieces and nephews.

Joe will be remembered for his kind smiley eyes, his calm demeanour, funny sense of humour, and his love for life and listening ear, but most importantly his unwavering, unconditional love, loyalty and devotion for his family.
Visitation will be held at Chapel Ridge Funeral Home, Markham on Thursday, July 29th, 2021. The service will take place at St. Patrick's Catholic Church, 5633 Highway #7 East, Markham on Friday, July 30th, 2021 at 10:30am.

{fastsocialshare