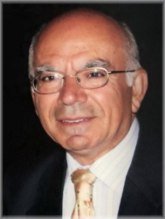 DI MAURO, Enzo - After a courageous, two-year battle with brain cancer, Enzo passed away surrounded by his family on July 26, 2021 at the age of 77.
Enzo's journey began in Rosolini, Siracusa.
Armed only with a chemistry background, Italian language skills and a tremendous amount of optimism, Enzo departed his beloved Sicily in search of a better future.
He lived in Switzerland and Germany before arriving in Toronto. Quickly, the local Italian community embraced him.
Most importantly, he met and soon married his beloved wife, Connie (Concetta) Di Stefano.
Together, Connie and Enzo celebrated a loving marriage that endured fifty years.

Enzo's face and personality are dear to the Italian-Canadian community. For fifty years, Enzo was part of the local media, putting in tremendous effort to engage and be a voice for the community. Enzo worked within the media in all forms. He is recognized for his time with Ciao and CHIN radio, as well as on OMNI News and CFMT television, eventually launching his own weekly, and subsequently monthly print publication, Panorama Italian Canadian.
Enzo was the proudest father to Riccardo (Maria) and Diana. He loved music and the arts, however, his favourite pastime was simply spending time with his family, especially his grandchildren, Sofia and Alessia. He will be sadly missed by his children, grandchildren, sister and many nieces and nephews. Enzo's passing is felt deeply by his family, both here and abroad. This loss sadly resonates across the Italian-Canadian community. Enzo, Papa', Nonno, we love you dearly. You will be missed.
Visitation will be held at Highland Funeral Home, Scarborough on July 30th. The service will take place at Epiphany of Our Lord Church, 3200 Pharmacy Ave, Scarborough on July 31st at 9:30 a.m.
{fastsocialshare