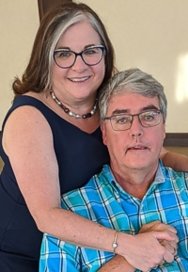 KEARSE, Robert 'Bob' William - It is with profound sadness and much love that we mourn the loss of Bob Kearse of Richmond Hill, ON, who passed away unexpectedly on September 10, 2021, at the age of 59.
Bob had been in hospital for a few weeks and was thought to be on the mend; however, in the early hours, after spending an enjoyable evening chatting and watching football with Mary, his much-loved wife, Bob suffered cardiac arrest and slipped away.
Bob will be desperately missed and survived by Mary (nee Dempsey), his wife and true love of almost 37 years, and their son, Stephen (Emilee). Bob will be missed deeply by his brother Percy (Laura) and his sisters Pat (Don) and Betty (Larry), as well as his nieces Nikki (Mike), Karen, Cindy (Jason), Colleen (Brandon), Erin, Brigitte, Philippa and Clementine and his nephews Craig (Nicole), Ian (Erin), Brian (Stephanie), Addison, Yves (Becky), Nolan, Grant and Ryan.
Bob will also be missed by Mary's siblings, Will (Denise), Gordon (Barbara), Peter (Lisa) and Colleen (Geoff). In addition to his family, Bob's loss will be felt keenly by his many friends and colleagues.

Bob was predeceased by his beloved mother, Dorothy Kearse (nee Kane) of Durham County UK and his beloved father, Chief Warrant Officer Cyril William Kearse of Burlington, ON.
Bob was born in Montreal, Quebec, the youngest child of a proud military family and known fondly to his family as "Bobby". The Kearse family eventually settled in Belleville, where Bob met Ken Pearce, his lifelong friend, and eventual Best Man. In high school, Bob was a long-distance runner, sailor, cyclist and, by some accounts, mischief-maker. Indeed, one of Bob's proudest accomplishments was cycling across Canada on his own.
In 1982, he entered the civil engineering co-op program at the University of Waterloo where Bob engaged in any number of shenanigans, perfected the art of beer case furniture construction, became an avid boat racer, and made many life-long friends. One such friend is Ian Spice. In the last few years of Bob's life, when Kennedy's Disease had robbed him of mobility and rendered him house bound, Ian would often drop by to have lunch with Bob, shoot the breeze, compare notes, and talk smack about their favourite sports team and athletes. In fact, Bob was texting with Ian about the football game the night of his passing. Ian's friendship was precious to Bob; he treated Bob like he always did and that was a true gift.
In 1984, Bob was introduced to Mary Dempsey through a mutual acquaintance. This chance introduction changed the course of both Bob's and Mary's lives. Falling head over heels, they began a partnership that spanned nearly 37 years and produced their much-loved son, Stephen. Bob's career took them to Egypt and Barbados, and their shared curiosity and love of live sporting events took them on adventures across Canada and into the States. In fact, Bob's admiration of Kirby Puckett nearly resulted in the naming their son Kirby, but we are all thankful that saner heads prevailed, and the name Stephen was chosen. Bob and Mary also shared a love of musical theatre, music, sports, reading and latterly wagering in the various Dempsey Family sports pools. For many years Bob and Mary were Blue Jays season ticket holders and were thrilled to be present when the Jay's won the World Series in 1993.
Bob's smile lit up his entire face and the hearts of those around him; his laughter and chuckles were contagious and his wit always on point. Bob will be remembered for his love of music, avid love of sports, sense of humour, enjoyment of Opus the Penguin and all things Bloom County, dedication to photography, keen interest in politics, love of reading, troubling addiction to extreme hot sauce, skills as a professional engineer, concern for the environment and love of family. Bob was a clever, kind, compassionate person who was always prepared to forgive.
Despite facing many challenges, including Bob's worsening Kennedy's Disease, Bob and Mary were true partners. Mary was the love of Bob's life, his best friend, his world, and his happy ending. Mary's heart is broken, as she has lost her life's companion, her champion, and the string to her kite.
Bob, we miss you and we love you. You will be with us always. We will speak of you often. We will laugh and cry, thinking of all the jokes that we shared and the adventures that we had. We will smile as we remember you. We had no idea how much this would hurt.
Arrangements are entrusted with Kane-Jerrett Funeral Homes, Thornhill.
{fastsocialshare