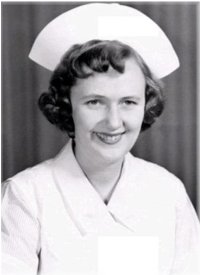 BUTT, Geraldine "Anne" (SNOW) - Passed away on September 22, 2021, at Toronto General Hospital after a brief illness.
Anne was born in Corner Brook, Newfoundland, the firstborn of Gerald Worrell Snow and Evelyn Batstone.
In 1953 she moved to St. John's to study nursing.
After marrying in 1957, she moved around Newfoundland for her husband's RCMP career while raising her daughters.
Anne continued her nursing career at various times, as the first school nurse in Bonavista, a pediatric nurse in Corner Brook and a geriatric nurse in St. John's.
In 1984, Anne moved to Toronto to be closer to her mother, continuing to work as a nurse at City of Toronto long-term care homes.
During her years in Ontario, Anne's spirited and outgoing personality helped her make friends from many cultures, enjoying concerts and movies, and dances, dinners and activities at Canadian Legions.
She loved reading throughout her life, especially autobiographies. Though dementia had started to rob her of her normal activities, she loved listening to music to the end.
Her greatest love, though, was for her daughters. On special occasions, she would not leave her condo until she had spoken to all four of them.
In later years, she enjoyed hearing about the antics and achievements of her grandchildren and great-grandchildren.
Anne leaves behind her daughters: Paula, Judy, Elizabeth and Andrea; sons-in-law, John Alexander and Dan McCurdy; grandchildren, Sarah (Chris), Laura (Curtis), Ben and Matthew; great-grandchildren, Jacob, Liam and Anna. Anne also leaves to mourn her brothers David and Gerald, sister-in-law Adelia, nieces and nephews, Heather, Chris, Carla, Ralena and Andrew, sister-in-law Ascenith and family, and many other relatives and friends.
She was predeceased by her sister-in-law, Mary.

{fastsocialshare