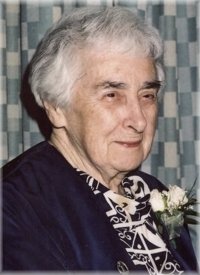 HAZELTON, Sister Margaret Ann Hazelton, CSJ,(formerly Gertrude Hazelton) - Died peacefully at the Sisters of St. Joseph's Residence, 2 O'Connor Drive, Toronto, Ontario, on Saturday, October 16, 2021 in the 77th year of her religious life.
Margaret Ann was predeceased by her parents, John Joseph Hazelton and Mary Bunyan, her sister Maureen Masterson, brother-in-law Paul, and her brothers Frank and Desmond Hazelton.
She will be sadly missed by her many nieces and nephews and their families, Sisters in community and many friends from the congregational health care facilities where she was engaged in ministry.
Sister Margaret Ann was a registered nurse working at St. Michael's Hospital, when she chose to enter the Congregation of the Sisters of St. Joseph of Toronto.
Following her profession of vows she continued to be engaged in the ministry of health care for many years.
She was a true nightingale with a warm heart and caring hand for every patient. She was gifted with an intuitive sense for diagnosing medical conditions.
Patients and staff were privileged to receive her dedication to ministry, at the bedside as well in an administrative role.
Sister Margaret Ann served in ministry at St. Michael's Hospital, St. Joseph's Health Centre, Providence Healthcare, in Toronto, Ontario, St. Joseph's Residence in Winnipeg, Manitoba and St. Joseph's General Hospital, Comox, British Columbia.
Following her career in nursing, Sister Margaret Ann volunteered at St. Joseph's Health Centre and served as President of the Volunteer Association.
As her health declined, she moved to the Care Centre at 2 O'Connor where she prayed for the poor, the sick and the needs of the world.
Sister Margaret Ann died peacefully at the Sisters of St. Joseph's Residence, in the Care Centre where she had been receiving excellent nursing care, love and affirmation.
There will be a private Mass of Christian Burial on Wednesday, October 20, 2021, followed by Interment at Holy Cross Cemetery, Thornhill.
Arrangements are entrusted with the Kane-Jerrett funeral home.
n lieu of flowers, donations may be made to Fontbonne Ministries, 101 Thorncliffe Park Drive, Toronto, ON M4H 1M2.

{fastsocialshare