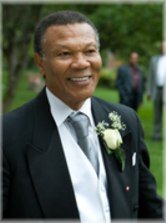 LILLY, Noel Adolphus - Born 1940 in Manchester, Jamaica, died on Thanksgiving day October 11, 2021 at Headwaters Health Centre, Orangeville, Ontario, Canada.
Loving father to Primrose (Michael), Sophia (Mark), step-father to Lorenzo, deceased.
Proud grandfather to Shane, Kamesha, Sheldon, Karina, Holden, Damian and Kiki.
Noel's contagious laughter will be missed around the dinner and dominoes tables. We will forever be reminded of his love for music, especially reggae and Motown.
Noel brought joy, good times and love to his friends and family. He was an unsung hero of the struggle for social justice, and served as an example to his children. He was a fireman in Jamaica.
In the 1960s, he studied electronics in New York City, and was a regular at the Apollo Theater, where saw the great performers of the day, including Diana Ross and Ella Fitzgerald. In the early 1970s, Noel and family immigrated to Canada, and embraced his new home. He worked as an appliance repairman for Sears, and became an avid fan of the Toronto Blue Jays and Maple Leafs.
In his last days, Noel struggled to communicate, but found the will and strength to mouth along to one of his favorite songs:
Wonderful World, Beautiful People, by Jimmy Cliff.
Noel looked forward to his afterlife. He died with a smile on his face, anticipating a reunion with his mother Louise, who passed when he was nine months old.
Visitation will be held at Chapel Ridge Funeral Home, Markham on Friday, October 29th, 2021 from 5:00pm - 8:00pm and Saturday, October 30th, 2021 1:00pm - 2:00pm followed by the service.

{fastsocialshare