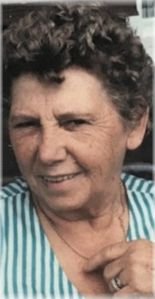 MACKINNON, Doris Muriel (nee HODGINS) - Surrounded by the love of her family, and after a lengthy struggle with Alzheimer's disease, Doris passed away on January 5, 2022 at the age of 98.
Doris was born on February 18, 1923 in Malbay, Gaspé, Quebec.
She was predeceased by her father William Colin Hodgins (1882-1960), her mother Victoria Alexandra (Doody) Hodgins (1889-1931) and her 11 treasured siblings.
Doris married her beloved, James Stewart MacKinnon (1923-2005), in 1951 and remained his partner until his death.
She held a variety of jobs in her lifetime including contributing to the war effort during WWII. During the '50s and '60s she worked as a keypunch operator and was proud to be an early working mom.

In later years, when her children had grown, she enjoyed working with children in a daycare setting.
Doris was a loving and devoted mother to her children: Heather MacKinnon, Bonnie Glancy (Bruce) and Alexander (Sandy) MacKinnon. She was delighted by and will be fondly remembered by her six grandchildren Jessica Hartrick (Greg), Rachel Palen (Cam), Allison Glancy (Josh), Rebecca Glancy, Kyle MacKinnon (Katie), Christian MacKinnon (Christine) and three great-grandchildren, Alden, Jubal, and Molly.
The family wishes to express sincere thanks to Wynfield Residence, Oshawa for their dedication and unfailing care for the past 11 years.
Family and friends will gather in the spring for interment and a celebration of life.
Thanking those who have contacted us and acknowledged our loss. In lieu of flowers, we would kindly request donations to research for Alzheimer's disease.
"And when great souls die, after a period peace blooms, slowly and always irregularly. Spaces fill with a kind of soothing electric vibration. Our senses, restored, never to be the same, whisper to us. They existed. They existed. We can be. Be and be better. For they existed." - Maya Angelou
We are comforted to know that our sweet mom is no longer trapped inside her earthly confines and now is free.

{fastsocialshare