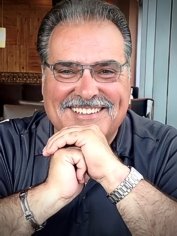 MILIC, Peter 'Bear' - It is with heavy hearts that the family announces the passing of Peter (aka Bear) on January 18, 2022, peacefully with his loving wife and son by his side at the age of 62 in his hometown of Toronto, Canada.
Peter is survived by his loving wife, best-friend and confidant, Carole Milic (nee Dufour), his wonderful son Hans Milic, his Sisters Anna Schilling (husband Bill Schilling) and Ella Rose Milic, Nephew Rev. Aaron Milic (wife Marilyn Toomsalu), Uncle Pero Stojanovic (wife Dana Stojanovic), Cousin Vaso Stojanovic (wife Stephanie Stojanovic) and their children Bianca and Luca Stojanovic, Sister-in-Law Christiane Laccitiello (husband Mario), nieces Nadia and Lisa Laccitiello, and Father-in-Law Guy Dufour.
Peter was preceded in his passing by his parents Nikola and Anka Milic, his brother Rudolph Milic and mother-in law Jeannine Dufour.
Peter also leaves behind many wonderful friends and neighbours who cherished being by his side.
Peter was born and raised in Toronto and was a huge ambassador for his city. His forty years of being a Chauffeur gave him the opportunity to showcase and promote Toronto. His clients adored him and he adored them. His loyalty to them and his company was unsurpassed. His co-workers respected his work and people were in awe of how shiny and clean his beautiful black cars were. It was not uncommon to see Peter out there polishing up his wheels so that the car would be pristine for his next client.
Another passion was his music. He would sit in front of his stereo for hours, listening and identifying every instrument, taking in every note, embracing the sound as if it flowed through his body.
His biggest passion however was his family. A caring and loving father to Hans, a faithful, strong and hardworking adoring husband, a kind and considerate brother and son to his parents. A fun and generous uncle to his nieces and nephews and to his extended family on Eastwood Road… his hood. He loved to entertain and called his home "the mother ship". The party always started when Peter arrived.
Peter's smile was all you needed to feel warmth and love. He will be greatly missed by everyone he touched.
A celebration of Peter's life will be held at a later date. Please check the Giffen-Mack-Trull funeral home, Danforth website regularly for updates.
{fastsocialshare