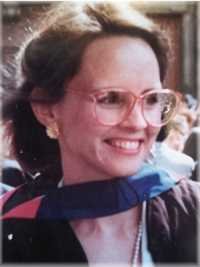 KENNEY, Ann Kenney, M.D., - 69, passed away peacefully, surrounded by family, at her home in Hillsborough, NC, on Tuesday, January 24, 2023, of cancer.
Born in Cincinnati, OH, on November 25, 1953, to John Robert Kenney and Joan Elizabeth Tilton, she grew up in North Canton, CT, with her four sisters.
She attended the Chaffee School in Windsor, McGill University (B.A.), and the University of Toronto Medical School (M.D.).
Her 30-year career in family medicine included Parliament Health Associates in Toronto (1988-1997), the Family Medicine Residency Center in Tupelo, MS (1997-2002), and the Family Care Center in Tewksbury, MA (2003-2015).
She is survived by her husband, John Christian Elstad; her daughters, Emily and Rebecca and their husbands, Josh and David; and grandchildren, Miles, Pippa, Aibrean, and Henry.
Donations can be made in Ann's name to a scholarship fund she created that supports African American students with college expenses: https://onrealm.org/trinitymelrose/.
{fastsocialshare