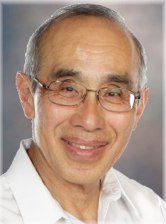 MAIKAWA, Thomas 'Tom' - On Saturday, January 5, 2019, Tom died peacefully in his sleep. While this was completely unexpected, his family is at peace knowing he lived a full life right to the very end. He was always kind, always in a good mood, and was always thinking of ways to make things better for everyone around him.
Tom was born September 3, 1941 in Vancouver, BC to his parents, Sadao & Haruko. He was the youngest of three with older sisters Kathleen & Ruth (the latter who later married Gord Kai). During the war, when many Japanese residents were interned, the family left Vancouver and went to Revelstoke, BC. After the war they relocated to Hamilton, ON, and then later moved to Toronto, which Tom considered home.
Tom graduated from Queen's University as a Mechanical Engineer in 1964, and he worked at a variety of places throughout his career including General Steel Wares, Anthes Steel, Trane, Facelle Royale and then Ontario Hydro. He retired from Hydro in 2002 in time to focus on his true calling - being 'Papa'.
Always with a practical sense of adventure, Tom quit his job in 1967 to travel around the world for seven months and ultimately saw twenty-three countries on four continents. Upon his return to Toronto, he met Judy who had moved to Toronto from BC 'just for a year'. He knew she was the one for him and she ended up staying in Toronto permanently.
Tom married Judy in 1969 (they almost made it to their 50th anniversary!) and had a wonderful life together. They were so well suited to each other and they made a perfect pair.
They added to their family with Steve and Cindy. Always the supportive loving Dad, Tom was never too busy to help with homework, build skating rinks in the backyard, throw a ball, go swimming, drive them to their activities, teach them how to drive, and encourage them in everything they did.
When Steve married Andrea and Cindy married Tom ("Little Tom") in 2001, Tom was only too happy to add them to the family and help them get their lives started. He helped with renovations, provided advice on big purchases, and was just generally supportive. He was a proud father in law.
He soon became the very proud Papa to four wonderful grandchildren: Malia, Matthew, Matai and Katie. Never too busy or too tired to play with them, watch one of their sporting events, watch a movie with them, set up an Easter egg hunt, or just hang out, he was the best Papa anyone could ask for.
His many sisters-in-law and brothers-in-law will miss him dearly, and all his nieces and nephews will also miss Uncle Tom. And many other friends who are like family will also miss his kindness and sense of humour.
After watching their kids grow up, Tom and Judy started their own travel adventures and over the last 15 years traveled to Japan, China, Vietnam, Cambodia, Peru, South Africa, Chile, Argentina, Brazil, Thailand, Laos, Myanmar, and Disney World.
Tom was a big sports guy - hockey and tennis in his early years and after retirement he focused on tennis, curling and golf. He loved watching his grand-kids play their sports and even spent his last evening with family cheering on Malia as she scored the tying goal in the last minute of her hockey game.
He was always there for his family. He was always there for his friends. We all thought he'd always be there.
But Tom led a full life, full of worldly travel, a wonderful family that was blessed by his presence and example, and scores of people who knew and loved him.
Visitation will be held at Highland Funeral Home, Scarborough on January 15th from 7:00 PM - 9:00 PM and on January 15th from 12:00 PM - 1:00 PM followed by a Celebration of Life.

In lieu of flowers, donations to Momiji Healthcare Society or Bayview United Church would be greatly appreciated.
{fastsocialshare