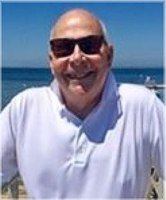 O'NEIL, G. Peter - Peter's motto was to Live Life Large, and he certainly did.
Peter inspired everyone he met with his courage, intelligence and wicked sense of humour.
We are better people for having him in our lives.
Peter passed away peacefully surrounded by an inappropriately large gathering of family and friends.
We would like to thank and apologize to the Bridgepoint staff for the constant stream of noisy Team Peter supporters. Beloved husband of Colleen Bell.
Adored brother of Sherry and Ted Chris, Patrick O'Neil and Lisa Vroman, Mary Ellen and Paul Cornelius.
Awesome Uncle Peter of P.J., Katie, Emily and their families.
We will celebrate Peter's life at a memorial service at the Cathedral Church of St. James, 65 Church Street, Toronto, Ontario, on Thursday, January 11, 2018 at 1:30 p.m. Welcome gathering will be at 1:00 p.m. at the church.
Donations in Peter's memory can be made to The Covenant House: covenanthousetoronto.ca
"There is a crack in everything, that's how the light gets in" - Leonard Cohen.
{fastsocialshare}