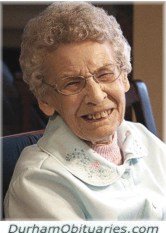 NUNN, Myrtle Emmaline (nee Willard) - Myrtle Emmaline Nunn (nee Willard) passed away peacefully at Amica Retirement Home in Unionville, Ontario on June 27, 2018.
Myrtle is survived by sisters Marge Norton (Ross) and Thelma Coleman (Morris), brothers Pearlie Willard (Doris) and Wayne Willard (Marge), sister-in-law, Marjorie Willard, daughter Wendy Nunn, daughter-in-law Brenda Nunn-Schellenberg (Rick), granddaughters Paula Haley (Tom), Alana Scichilone (Gino) and Jenny Jones (Chris) and great grandchildren Kelci Cote (Steve), Ashton Haley, Jestina and Alyssa Scichilone and Jackson Jones.
She is now in heaven with her husband Issac Eaton, her son Alan, her grandson Ian, her parents George and Lillian Willard and siblings and brothers/sisters-in-law Archie and Beatrice Willard, Glenn and Hazel Willard, Jim and Eleanor Willard, Wes Willard, Verla and Earl McMillan and June and Bill Bumstead, who have gone before her.

Myrtle was a quiet, unassuming and dignified woman with a huge heart. She was an unpretentious, classy lady who believed that if you didn't have something good to say about someone, then don't say anything. She had many hobbies and excelled at all of them, including quilting, sewing, crocheting, knitting, painting, writing and gardening. And of course, she was forever a consummate teacher, loved by all of her students. And (almost forgot) she was a wonderful cook and baker.

She died as she lived - full of dignity and grace. We shall miss her terribly.

In lieu of flowers, please feel free to make a donation in her memory to a CHARITY of your choice.

There will be a celebration of her life at Perrin Funeral Chapel, 128 Whitehead Avenue West, New Liskeard at 3 pm on Saturday, July 7, followed by refreshments and then by a service of committal of her ashes with her husband Isaac at Milberta Cemetery.

Messages of condolence and shared memories are welcome by visiting barnesmemorialfuneralhome.com.
{fastsocialshare}