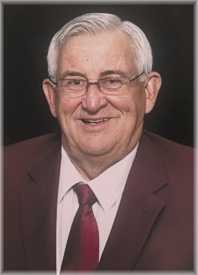 MADILL, Calvin -
August 27, 1941 - August 17, 2023
Calvin passed away suddenly on August 17, 2023, on a road trip en route to Edmonton.
He was 81 years old.
A few years ago Cal took his family aside and told them, "I have done everything that I have ever wanted to do in my life. If I died tomorrow, I would have no regrets."
He never slowed down until the day he left us.
Born in Bradford, Ontario to a farming family, Cal and his sister Fern developed the kindness that would go on to define their lives.
Eventually Cal would meet the love of his life, Joyce, and raise Mary Lynn, Carol Ann, Donna Lee and Alan. He was very proud of his family and his joy grew as his family got bigger.
He was a loved father-in-law to Greg (Mary Lynn), Lloyd (Carol Ann), Jordy (Donna Lee) and Sammy (Alan).
Cal loved spending time with his 10 grandchildren and great grandchildren. They always learned an interesting life lesson from their Papa.
Cal's hard work ethic lead him to experience many interesting occupations. He started with the United Cattle Breeders and then went on to run his own lawn equipment business. The 1980's high interest rates weren't kind to small businesses, so Cal went on to a highly successful career as a sales manager at Beatrice Foods.
When retirement came calling, he didn't answer the door and started another career, this time in real estate.
He worked hard, but also enjoyed the benefits of his labour.
Cal always had a classic car or two (sometimes three) in his garage. His favourite was his 1912 Model T. He loved snowmobiling, hunting, socializing and travel. When Cal did eventually retire, he and Joyce toured every inch of Canada and the USA in their 5th wheel. Twice.
Cal's personality lit up every room he walked into. His acts of kindness were legendary. From his involvement with the Shriners, raising money for Shriner's Hospitals for Children, to snow plowing his neighbour's driveways, never expecting anything in return. In 2010, the International Plowing Match asked him to be their Chairman for 2014. It was a huge ask and Cal put everything he had into it. It turned out fantastic.
The world needs more Cal Madill and it's going to miss him dearly.
A celebration of life is currently being planned and details will be shared shortly.
In lieu of flowers, please donate to the Shriner's Hospitals for Children-Canada, or you can also just go out and do something kind for someone. Because that's what Cal would do.
Shriners Children's Hospital Canada: https://secure.e2rm.com/registrant/DonationPage.aspx?eventid=231225&langpref=en-CA&Referrer=https://fr.shrinershospitalsforchildren.org/ .