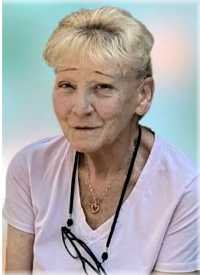 FUTTER, Judy Leona Futter -
JULY 16, 1947 – MAY 31, 2023
Our beloved, Judy Leona Futter (Marshall) passed away from us Wednesday May 31st, 2023.
She was at home on an unusually quiet morning sitting on the couch with the morning sun shining in on her from the back window.
She had a chance to say goodbye to her only grandchild, Liam, for the last time before he left for school.
Not much longer after that she took her last few breaths while sitting with her daughter Jenny.
Her son-in-law, Bill, was just coming back from Orangeville where she lived with her roommate and brother-in-law Moe Wickett. As Mom put it, Moe was the best and she could not have gotten by without him those past few months.
Bill had retrieved some of her belongings for her including some pictures of her husband, and soulmate, the late Al Futter.
Although he did not return home until after her passing, he did return with to 2 great friends, Stacey and Erica, who took charge and helped Jenny to ease the pain and chaos of the day.
Although Judy's Cancer diagnosis came late and we had to transfer her care from town to town, we want to thank Orangeville Headwaters, Brampton Civic, and Oshawa Lakeridge Hospitals and R.S. McLaughlin Durham Regional Cancer Centre for the care and arrangements they made to help her until we no longer could.
Judy is survived by her little brother Graham Marshall and 3 sister-in-laws, Donna, Linda and Chris. Judy was very proud of all her many nieces and nephews. To Cathy and Linda, to whom she was very close, many a Thank You to you and your families for your Love and support. Thank You to some great neighbours and friends who tried to help along the way.
If there are souls waiting to help those who are passing, Judy will have an entourage!
Predeceased by a husband, a mother & father, a brother, 2 sisters, a mother-in-law, brother-in-laws, a sister-in-law, a niece, a nephew, and many an aunt, uncle, and cousins...... plus a great couple of dogs to lead the way. Judy's final day may have
sounded like a pleasant day to pass, but Cancer is not pleasant on any day in any form.
If there is a chance for you to donate, either money or your time, please consider the many Cancer Charities out there looking for people just like you. Thank You.
Fond memories and expressions of sympathy may be shared at courticefuneralchapel.com for the Futter family.
{fastsocialshare}