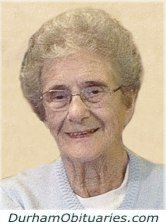 SETTLE, Doris (nee Ball) - It is with much sadness that the family of Doris Settle of Whitby announces her passing on Sunday, March 4th, 2018, at the age of 91 at Lakeridge Health Whitby Hospital surrounded by her loving family.
She was predeceased by her loving and caring husband, Geoffrey (2002).
Proud mother of daughters Lesley and Hilary and son Graham (wife Lawrene).
She was a beloved grandma ("gma") to Adam, Ryanne, Cath, Samantha (husband Richard), Chris (wife Sami), Ben (wife Ashleigh), Natasha, Jake, and great-grandchildren Olivia, Caity, Alfie and Freddie.
Doris was born in Bolton, England and is fondly remembered by brother Eric (wife Florence), sister-in-law Jackie, and nephews Gary, Keith and Andrew.
Doris will be missed by good friend Larry (wife Olga, deceased 2000). Also missed greatly by her furry family, Chloe and Charlie. In 1964 Doris and Geoff decided that England could no longer hold them and so made plans for the Settle family to spread their wings and venture into the wide blue yonder, applying to Australia and Canada.
Whichever country first saw their potential as upstanding citizens would be where the family would settle, no pun intended. With the house sold, a week off school, and an overnight coach trip to London, the family of five, with their little bags on their laps, faced nine hours in a Boeing 707 headed for Toronto, about to realize their dreams.
Doris and Geoff eventually set roots in Oshawa to raise their family. Both enjoyed satisfying careers and travelled often, but struggled to learn German and nearly squandered the children's inheritance during their "occasional" side trips to play the slots in Las Vegas.
In later years, after retirement, they became snowbirds, travelling between Mesa, Arizona and Fergus, Ontario before moving permanently to Whitby to be closer to family. A voracious reader, Doris was a consummate knitter and had a passion for cross stitch.
When asked her age, she proudly exclaimed she was as old as the queen. She will be dearly missed, but the family rests easy knowing that Doris and Geoff are forever reunited.
Visitation will be held at OSHAWA FUNERAL HOME, 847 King Street West (905-721-1234) on Friday, March 9th from 11:00 a.m. until time of Funeral Service in the Chapel at 12:00 noon. Interment at Union Cemetery.
Memorial donations to the Salvation Army would be appreciated.
Online condolences may be made at oshawafuneralhome.com.
{fastsocialshare}