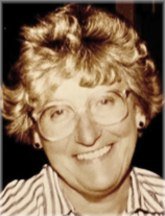 BUIZERT, Gerritje 'Grace' (Eilander) - It is with great sadness we share the news that Grace Buizert born on 16 May 1929, peacefully joined the Angels, her parents and siblings on November 27, 2020.
She was the loving wife (68 yrs) of Cornelis M. Buizert (Kees).
Proud mother of Casey Buizert and Joy Valenton (Buizert).
Grandmother of Trevor Cornelius Bernhardt Valenton and mother-in-law to Robert Valenton.
She will be missed and remembered as a gentle, loving and gracious soul.
Grace is the last of her seven siblings (Teun, Jaap, Bertus, Ben, Jo, and Jet).
Grace & Kees (Casey) are a classic example of Post WW-II Canadian pioneers. Newlyweds, in 1952 with less than $50, they boarded the S.S. Ryndam in Holland to start their new lives - westward across the Atlantic Ocean in their new country - Canada. After processing through Pier 21 in Halifax, they took the 'immigrant train' to their new life in Toronto.
Grace served as a Scarborough crossing-guard for 20 years. A welcomed sight to the school children, many of whom she assisted safely on their way to and from the St. Agatha Catholic School.
She enjoyed accompanying her husband Kees (Casey), her mother-in-law Oma Buizert and her children Casey & Joy on various camping excursions.
Always true to her belief in volunteering, she assisted Kees with their 30+ years as volunteer Scout leaders with a local Scout troop many with special needs.
Grace loved flowers and puttering in the garden, evident in her tastefully displayed floral arrangements.
She was an active member of the United Church and enjoyed singing in the choir.
Please join us in celebrating the life of of this gentle, caring soul, loving wife, mother, grandmother and a proud Dutch-Canadian pioneer.

{fastsocialshare