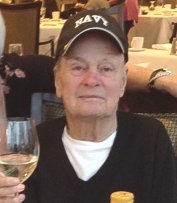 CLAPP, William 'Bill' Ford - William (Bill) Ford Clapp, at age 90, passed away peacefully at home on Friday January 8th, 2021, surrounded by love until the end.
He was born in Columbus, Ohio on October 30, 1930 to Milo Ford and Helen Peoples Clapp. Preceding him in death were his sister Sarah Reid, step-mother Helen Young, and step-brother Ivor Young.
William (Papa Bill) will be deeply missed by his wife Nancy Hummel, three children Susan (Danny) Nolan, Alicia (Karl) Scholz, and Ford (Heather) Clapp. Bill was tremendously proud of his 6 grandchildren, Sarah, Christopher and Emily Nolan, Marie and Carson Scholz, Spencer Clapp and fondly remembered by his former wife, Judy.
Bill grew up in Columbus, Ohio, and attended Upper Arlington High School. He spent two years at Dartmouth College in New Hampshire and completed his undergraduate degree in Business at Ohio State University.
In 1952 Bill joined the US NAVY Supply Corps during the Korean War and after training in the US he became a commissioned officer assigned to the second largest naval base in Japan. This was an experience that stayed with him his whole life. He was recognized for the Korean War Veterans cap he often wore. He learned some Japanese which he would teach to anyone willing to listen, "Anatano, jinse no, mokuteikewa nandesuga?" And he forever loved all things Japanese - their art, furniture and food. After two years abroad he travelled home from Japan on the Canadian destroyer, HMCS-Haida, which today sits in port in Hamilton, Ontario. He took tremendous pride in taking his son and 3 grandsons to visit this historic site and important chapter in his life.
Bill's passion for learning and teaching led him to universities in Berkeley, California and Boulder, Colorado where he studied Psychology and then to Reno, Nevada where he taught Psychology at the University of Nevada. In 1970, with three children and wife Judy, Bill moved his family to Toronto where he had accepted a position as Chief Psychologist at Thistletown Regional Centre working with children and later at the Muskoka Centre in Gravenhurst.
Bill was active in sports of all kinds throughout his life, from swimming, football and golf in high school to sailing, rollerblading and of course tennis which he loved most and played (and won at) into his 80's.
Bill also loved to travel and did it extensively with his wife Nancy. Bill followed Nancy for months-long stays where she was working as a travelling nurse in Florida, Hawaii, and the Virgin Islands (where they lived on a boat). Together they saw Russia, China, Greece, Croatia to name a few. Dad was happiest when he was on-the-move to places new and exciting. The stories and adventures are endless. Recounting them often left us in awe or laughing with tears.
Bill was fun loving, full of life and always talking to people; keen to uncover some interesting information or strike up a friendship. Flea Markets were his favourite "go-to" place. If he found a deal he would buy a dozen (red shorts) regardless if he needed it or not.
Bill never feared death or dying, so perhaps he has just moved on again to some place new and exciting. We will forever hold him close to our hearts and will miss his smiling face every day.
Arrangements entrusted with Skinner and Middlebrook funeral home, Mississauga.
{fastsocialshare