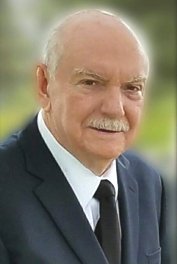 WATTS, Frank - (October 14, 1939 - September 11, 2020) -
Frank was born in Stockport, Cheshire, UK to parents Edna & Charles Watts and had two older sisters Barbara and Amy, now deceased.
He graduated from Stockport School County Grammar and joined Marconi Company in 1957, moving to Canada in 1963 with Canadian Marconi. He worked for four years as a technician on the North American early warning radar system in Northern Labrador and later on Resolution Island / Frobisher Bay. He moved to Montreal in 1967 and joined the UK Prudential Co., subsequently relocating to Toronto in 1979 working as a director with JJ Barnicke Ltd. and retiring in 2006.
He met his future lifelong partner Marcel Vaillancourt in 1972 and they were married in 2013.
Frank lived life to the fullest, loving dancing, music, opera, jazz, theatre, movies, cooking, gardening, collecting art work, antiques, bronzes, paintings and masks, working on colored glass, and with Marcel, renovating their beautiful Toronto home. They travelled extensively in the UK, Europe, North America, Mexico and elsewhere, often taking his second mother and longtime loving friend, Edith, with them. Frank loved running on the mountain in Montreal in his early years and enjoyed the extensive vibrant night life of the city. He & Marcel hosted many parties there and in later life entertained lavishly on many occasions. He was always generous, outgoing, and fun to be with, even with his repertoire of crazy jokes.
Marcel passed away April, 2019, while Frank, deeply missing the love of his life, passed in October, 2020, at his home in the Beaches.
His nephew Andrew, nieces Cris and Debbie, together with their families, all living in the UK, will sorely miss their uncle, as will the extended Vaillancourt family in Quebec, and his surviving friends in the UK, Montreal, Toronto, France, Barbados and South Africa.
His presence is sorely missed by all who knew him.
Arrangements are entrusted with Giffen-Mack funeral home, Danforth chapel.
{fastsocialshare