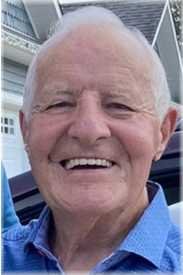 HASKEY, Peter -
May 15, 1932 - May 13, 2023
With heavy hearts and wonderful memories, we share the passing of our dear dad, grampa and uncle.
Peter was the youngest member of the Haskey family and was predeceased by his siblings: Mary, Natalie, Nicholas, Annie, Paul Peter, Stella, Paul George, Anne, John and William.
He will be deeply missed by his daughters, Barbara (Peter) Duncan and Lynne (Haruo) Abe; along with his five grandchildren; and two great-grandchildren.
Peter was a special uncle to Maria and Paola di Paolo. Peter lived his life fully and with intent. Family came first, followed by his devotion to his dog Lexi, his faith and his community. During his working years, Peter left his mark on the downtown Toronto skyline as a commercial sheet metal mechanic.
A family camping trip brought him to Southampton in 1968, where he fell in love with the beautiful lakeside town and ultimately retired there in 2003.
His retirement in Southampton offered many opportunities to befriend the local community. As a volunteer with the Marine Heritage Society, Peter was involved in the restoration of Chantry Island.
To his grandchildren, a special part of every summer was spending time with grampa in Southampton: Gerry's fries and petanque on the beach, sunsets and ice cream at the flagpole, building forts and boats from cardboard boxes, go carts and Tim Hortons treats and, of course, grampa's favourite sayings.
To his friends, Peter gave freely of his time and his talents, never expecting anything in return. And to children in need, Peter was a generous benefactor. Peter led an exceptional life. He leaves a legacy of love, a principled work ethic, an emphasis on having fun and on giving back. We are grateful for him.
Visitation at the Eagleson Funeral Home, Southampton, on Wednesday, May 17, 2023 from 4 to 7 p.m. A Funeral Mass will follow at St. Patrick's Church, Southampton, on May 18, 2023 at 11 a.m., with Burial and Reception afterward.
For those wishing to honour Peter's memory, please consider a donation to the Marine Heritage Society or Saugeen Memorial Hospital Foundation, both located in Southampton, Ontario.