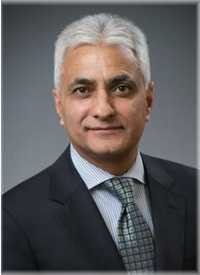 SANDHU, Herpal "Paul" Sandhu - After an accidental fall and cardiac arrest, Paul passed away at Hamilton General Hospital, on May 22, 2023.
Teammate and steadfast husband to Teresa (nee Caragata) for over 45 years.
A home-for-dinner father and sports coach to Tej (Andrea), Kellan (Angela), and Tristan (Rebekah).
Naturally-gifted grandfather to Rhye and baby-to-be Sandhu, Mayrakai Boone, and Adelaide and Everett Sandhu.
Paul will be terribly missed by his siblings, Preme (Eric) and Jeet (Cindy) Sandhu. His father, Chanan and mother, Charan emulated charity and hospitality, giving every Sandhu a legacy to follow.
To each and all, Paul was a caring mentor with all of life's challenges.
His faith in God and humble, intelligent leadership to both family and colleagues strengthened and encouraged everyone.
After undergraduate studies at The University of British Columbia and graduate school at The University of Victoria, where he was also an active student politician, Paul's career took him places: Victoria, Vancouver, Toronto, London, Chicago, and Hong Kong, landing safely back in Toronto in 1999.
Super knowledgeable and intuitive, Paul was a regular speaker on current day financial markets both on stage and on screen (BNN).

Paul and his family believe in giving. They have participated in various charities including overseas microfinance and youth entrepreneurial programs; in Canada: immigrant resettlement and higher education, housing for homeless, indigenous street youth housing, after-school and food programs.
He is an organ donor.

Teresa and her family will meet friends at Clearview Christian Reformed Church, 2300 Sheridan Garden Dr., Oakville, on Tuesday, May 30, 2023, at 10:30 a.m. Funeral Service begins at 11 a.m. (Paul was very punctual).
In lieu of flowers, Paul would have recommended contributions to Investing Hope Foundation serving Colombia's poorest, INDWELL Hamilton, and Empowerment Squared, Hamilton.