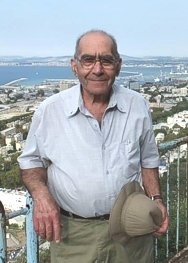 SAMARA, Michel 'Mike' - On Tuesday April 6th, 2021, Michel Samara, devoted husband and father to four children and grandfather to eight, passed away suddenly and peacefully at the age of 85.
Michel was retired after working a 32 year career at Warner-Lambert Adam Brands and Connaught Labs as a machinist and Supervisor. He was an active participant in retiree socials, often visited with former colleagues, friends and neighbours.
He was a committed father, husband, and brother. A man with great pride for his family and his work. Never a shy man, he was always front and center in conversation. He was a very knowledgeable, worldly, and cultured man.
He will be missed sorely by all his family and friends.
Michel was preceded in death by his father Najeeb, his mother Saida, his wife Cynthia, and his brother Nadeem. Michel is survived by his four children, Michael, Suzanne, Nadia, and Jason, his sisters Eugenie and Samira, and nephews.
Private Family Service arrangements entrusted with Ogden funeral home. Contact Jason Samara at This email address is being protected from spambots. You need JavaScript enabled to view it. for live stream link of funeral service.
{fastsocialshare