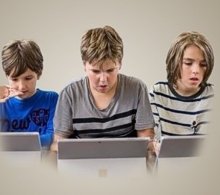 BAGAN-OVERHOLT, Coen, Riley and Alex - It is with heavy hearts that we announce the passing of Coen, Riley and Alex Bagan-Overholt on Thursday January 20, 2022. Lives that had just begun and were tragically ended far too soon.
The boys are survived by their mother Heather Bagan and her partner Derek Shipman, older sister Taylor Sawyer age 21, younger brother Nathaniel Overholt, age 5, as well as their father Gordon Overholt and his partner Danielle Ciomyk.
As a tribe of their own, they were close brothers and young boys who can most definitely be described as incredibly kind, always caring and affectionate, and more than anything, deeply loved.
Coen Samuel Robert Overholt – (July 11, 2006 - January 20, 2022) at the age of 15, "Coco": Coen loved researching and exploring the world of dinosaurs. Coen was big hearted and kind spirited. He helped everyone and always put people ahead of himself. He was known for his wit and sense of humour, and will always be remembered for having a smile on his face.
Riley Oliver Johnson Bagan-Overholt – (May 30, 2009 - January 20, 2022) at the age of 12, "chunky monkey" or "Ry guy": Riley was always about building, creating, coding and problem solving, a young engineer in the making. He also loved Roblox and transformers. Riley was smart and observant in his own quiet way.
Alexander William Jacob Bagan-Overholt – (March 27, 2012 - January 20, 2022) at the age of 9, "Booboo", "ABO" or as he referred to himself, "Alexander Aquarium": Alex was like a pinball, full of life and energetic. He was a happy go lucky boy, fun, so silly and always wore an infectious smile.
Three more stars in the sky for us to look up at, three more rambunctious souls to lighten up the afterlife, and three more angels to watch over us. They will continue to shine and bring joy to the lives of the many people they touched in life, and as we have seen, after death. We thank them for choosing us to be their family, for the gifts that each of one of them has been, and for the smiles we will forever have because of each of them.
Until we all meet again.
Friends and Community members will be given an opportunity for a Drive Pass visitation on Sunday January 30th between 4-6pm at the Brampton Funeral Home and Cemetery, 10061 Chinguacousy Rd. Please follow the guidance and direction of Funeral Home Staff. Tune into 89.9 upon entry and follow the directions of the radio broadcast.
Family Visitation: Sunday January 30, 2022 6-9pm by invitation only
A Funeral Service for Alex, Riley and Coen will take place on Monday January 31st at 11am (by invitation only) from the Chapel at the Brampton Funeral Home.
Private Livestreaming Link - Password Required (Family to Distribute) www.livememorialservices.com/Home/ServiceDetail/19561
We wish to ask the public and media to observe and respect the family's privacy during this difficult time. Your support, kindness and thoughtfulness is making a difference and is greatly appreciated.
In Lieu of Flowers, Donations would be greatly appreciated to Autism Ontario in memory of the boys...
{fastsocialshare