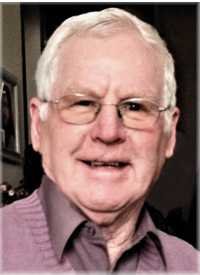 DALY, Denis McGrath Daly - April 15, 1934 - August 11, 2022
Denis passed away Thursday August 11 at 1235 AM. He died at home among some of those dearest to him.
The spring of 1934 brought our Denis to a very large Irish/Scottish Catholic family residing on Hall Street in the Low Waters community of Hamilton, Scotland.
Peter and Rose Ann (Burns) Daly had every reason to be proud of their last born.
Gifted with a compact athletic frame, 'Wee Denis' excelled at football (soccer to the ill informed) and some say had circumstances allowed, he could have had a professional career.
In his eighties playing with his great grandson, you could still see he 'had it'. (Saturdays would find him watching 'Premiership' games on the telly).
In 1966, Denis brought his family to Canada and settled in the Scarborough area of Toronto. General Motors was fortunate to have 'Scotty' and the living he earned allowed him to more than help with the raising of his 'sprogs'. Never turning his back on responsibility, he was always there for the generations.
He continued to 'go home' regularly to visit his family and friends and at least one game at Parkhead, home of Celtic the best team in Glasgow which of course meant the best team in Scotland and Ireland.
Generosity (unless a bargain in sight) and class, speak to his demeanor and spirit. Always impeccably dressed, he presented himself for any situation.
Perhaps his greatest gift might be described as an Irish/Scottish charm, gaining him many, many friends over the years. He used it too! Well into his eighties he had the ownership and wait staff at his 'local' wrapped around his little finger.
Predeceased by his son Denis Jr, he is survived by his partner Frances, daughter Elizabeth (John), son Robert, granddaughter Chantal, grandson Sean, great grandson Liam, the mother of his children Betty McLeavey, many relatives in Scotland and friends everywhere.
He will be missed.
Donations can be made to War Amps or the charity of choice, in his memory.
Condolences may be offered at etouch.ca .
{fastsocialshare}