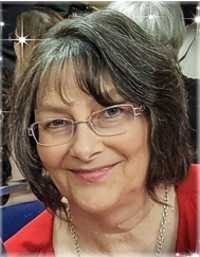 MCKINNON, Donna Marie - May 13, 1956 - May 14, 2022
Donna Marie McKinnon, 66, stepped from time into eternity on May 13th, 2022.
As a "birthday-perisher" Donna got to spend the first moments of her last birthday with her two children on earth, and left peacefully to finish her birthday with her husband, Walter, in eternity.
Our hearts are heavy with the loss of our matriarch, but we know she was welcomed by the open arms of her loving husband, who she missed very much.
Donna and Walter shared a life and love that many would find desirable.
Their love shone ever so brightly for 43 years, and was not dimmed by death.


Donna will be deeply grieved for and forever missed by her children; Mary Ann and Kyle, as well as her "bonus daughter" Carolyn. Donna's grandchildren; Axelle, Jamie, Jesse, Austin (deceased), Owen and Jake will all miss their grandmother ("Baba") dearly; but they will never forget her. Donna will also be missed by her great-granddaughter Ashlynn.

Brought to life by Donald (Don) and Joan Doherty, she had 2 brothers; Robert (Bob) and Ronald (Ron). After the passing of her biological mother, she had the great fortune of being raised by her mother's sister and her husband, Veronica and Murdoch Ferguson - "Aunt" and "Uncle" by blood "Mom" and "Dad" through love.
In that move, her sibling network extended to include Irene (deceased) and Stephanie. A remarried Don introduced a new mother-figure, Shirley, as well as her brother Lyonel and "baby sister" Kelly.
Donna was fortunate to have so much love surrounding her and for having the opportunity to experience a parents love from several people. Donna is survived by her father Murdoch Ferguson and step-mother Shirley Doherty.

Donna fought a long battle against cancer with courage, grace and grit. She will be lovingly remembered for her strength, courage, faith, love and kindness. We will forever honour her beautiful, inspiring, spirit.

Donna worked as a personal support worker for many years and loved caring for those who needed a little extra caring. She enjoyed traveling the world with her beloved husband, being a mother, and spending time with her family. Donna loved to have meaningful conversations, lend an ear, offer advice and had a special way with words.

Donna will be missed by friends and neighbours who rallied round her throughout her illness. One couldn't wish for better neighbours than the neighbours Donna had, they checked in, brought meals, flowers and kindness in droves - she was always grateful for her wonderful neighbours and friends.

It was Donna's wish to be cremated. A celebration of life will follow at a later date.
Donations in memory of Donna may be made to the Canadian Cancer Society.
Arrangements entrusted to W.C. TOWN FUNERAL CHAPEL , Whitby.
For online condolences, please visit wctownfuneralchapel.com .
{fastsocialshare}